Located along the world-famous Road to Hāna, the grass lot below the Hāna Ranch Restaurant features the sounds of free, live music as Hāna Arts presents the first Levitt Hāna Music Series, bringing residents and tourists together as one Ohana.
The live music series complements the weekly Farmer's Market, generating renewed economic interest in locally-made goods while creating positive experiences and facilitating resilience among a community of over 1,500 people. The first Levitt AMP Hāna Music Series infuses the grass lot near Hāna Ranch Restaurant with dynamic performances while inspiring new connections and celebrating the community's rich Hawaiian culture.
Presented by Hāna Arts, a nonprofit that provides art and cultural education and both life-enhancing and income-generating opportunities for all East Maui keiki to kupuna through youth, individual, and family programs including classroom teaching, workshops, and events that help stimulate and broaden their community's potential.
Location
Grass lot below Hāna Ranch Restaurant
Website
Season
May 5-October 6, 2023
Launching in
2023
George Kahumoku Jr.
Four-time GRAMMY winner and master slack key guitarist known as "Hawai'i's Renaissance Man"
Stephen Henderson
Hāna-rooted acoustic island soul singer-songwriter touching hearts with cinematic ballads
Joshua Kahula
Cutting-edge artist blending ska, reggae, and funk beats in celebration of 'ohana
Leokāne Pryor
Esteemed Hawaiian musician captivating global audiences with his soaring vocals
Kuf Knotz & Christine Elise
New-age emcee and classical harpist duo experimenting with hip-hop, soul, and classical sounds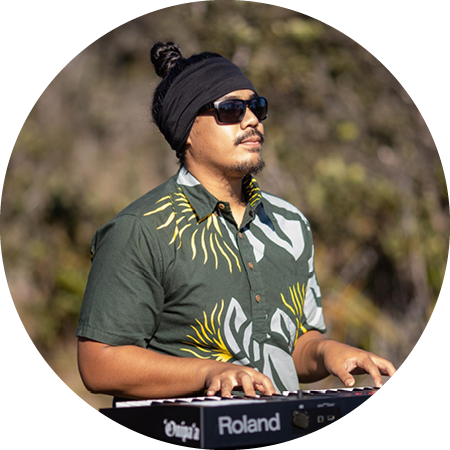 Ikaakamai
Celebrated contemporary Hawaiian Rēgē artist advocating for indigenous youth in the native tongue
Amy Hanaiali'i Gilliom
GRAMMY-nominated vocalist reinvigorating the Hawaiian tradition of female falsetto singing
Paula Fuga
Poetic Hawaiian pop-folk ukulele player making international headlines
Sting Kong
Maui-based surf rockers delivering new-wave psychedelic tunes
Andrew Bees
Acclaimed Jamaican vocalist and member of longstanding GRAMMY-winning reggae sensation Black Uhuru